Save Money
What would you do with more room in your budget?
By combining the purchasing power of very large pools of buyers, ECE Shared Resources negotiates savings programs that enable providers to achieve more with their existing budgets.
See the Savings Add Up!
Savings for providers using this platform are as follows: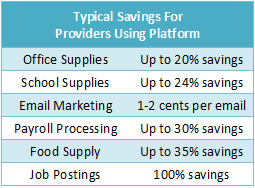 Learn more about savings programs available.
Savings Calculator
Use the calculator below to see how much you can save.
After you submit the form, please scroll back up in your browser to see your savings summary.