Partners & Impact
33 States and the District of Columbia
Today, ECE Shared Resources is utilized in 33 states and the District of Columbia, serving as a foundation for shared services initiatives and supporting quality care in thousands of family and center-based child care programs, serving hundreds of thousands children across the United States.
Take a closer look at the impact ECE Shared Resources is having:


Scroll below the map to see URLs for all sites.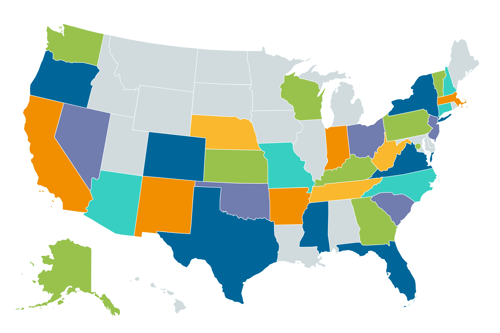 ---
Praise for ChildcareTennessee
Praise for ChildcareTennessee as their shared services platform, powered by CCA for Social Good, is able to deliver a strong support system to ECE programs statewide.
Sandy Greene, owner and operator of The Greene House Children's Center in Dunlap, Tennessee, discusses how important the administrative resources on ChildcareTennessee.com are for her program. She also shares how she uses discounts through ChildcareTennessee.com's savings programs to make her operating dollars go further. This project is funded through a grant with the Tennessee Department of Human Services and The Community Foundation of Middle Tennessee.